Our Monterey Bed and Breakfast Inn was named after the Lewis Carroll poem Jabberwocky from his famous book, "Through the Looking Glass." The ambiance of our historic eight room inn is light-hearted, warmly comfortable, and decidedly upscale.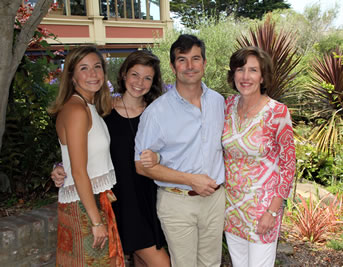 We enjoy meeting and caring for our guests who come from near and far. Some come for romance, others for a quick adventure getaway, and many for one of the Monterey peninsula's numerous events. Families and friends come as a group for enchanted reunions … many return often to re-experience the beautiful blend of elegance and innocence that is woven into every aspect of Jabberwock Inn!
After twenty-seven years in the Hotel business Suzanne and I (Rick) discovered the fun and joy of the Monterey peninsula. Originally from New Orleans, our family moved to California in 2005 and we have lived on the Peninsula since 2009. In taking over the inn we have decided to make beautiful Monterey our permanent home and, we look forward to welcoming you and making your stay a magical adventure!
– Rick and Suzanne Weichert. (Photo at right: Daughters Lauren and Jane with Rick and Suzanne.)
BREAKFAST …this is not your typical fare.
Please join us each morning for a freshly prepared, and elegantly presented breakfast. The full breakfast is made up of such delectables as Imperial Fiddlesticks, Snarkleberry Flumptious, Phantasmagoria, or other wondrous fulsome treats. And the Jabberjuice is not to be missed. Coffee is available by 7:15 AM each morning and breakfast is served between 8:30 and 9:30 AM. Just let us know if we can accommodate a special need or desire and we are happy to tailor something just for you.
EVENING HORS D'OEUVRES …and so much more.
Each evening at 5 o'clock we provide a tantalizing selection of hors d'oeuvres, wine, sherry and other beverages on the enclosed sun porch overlooking Monterey Bay and our whimsical gardens. It's a great time to share the day's adventures and to start planning for the next ones. We enjoy hearing from our guests and helping them to find a great place for dinner.
SNACKS
Coffee, Tea and Hot Chocolate drinks are available on the Sun Porch throughout the day and night. And guests are treated each evening to fresh baked cookies and milk!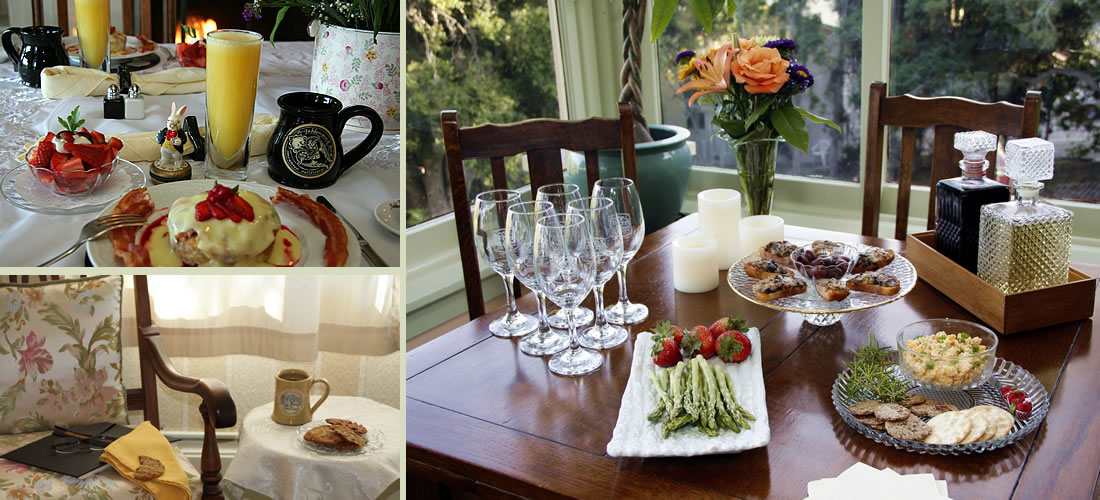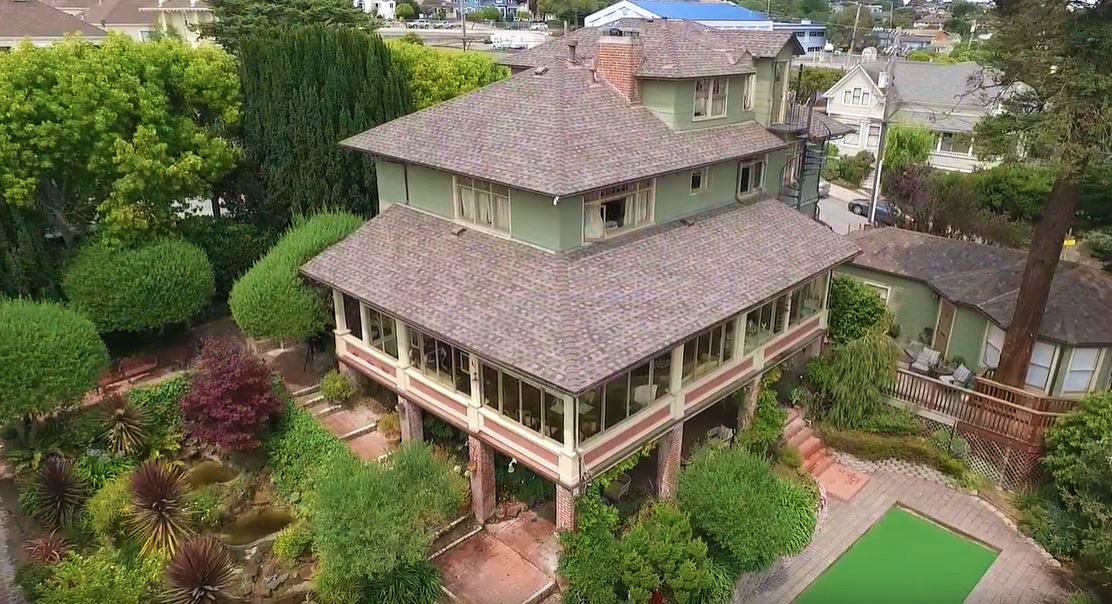 GARDENS & BOCCE BALL COURT
The Jabberwock Inn is nestled on a half-acre of colorful gardens and waterfalls. Hummingbirds and Blue Birds abound. Perhaps you'll catch a glimpse of the family of raccoons that calls the Rabbit Hole their home or the deer that nestle down for the night in our lower gardens. Enjoy a game of Bocce (see rules) on our garden court. You will delight in the visual banquet that will greet you upon arrival at this Monterey Bed and Breakfast Inn!
A look back …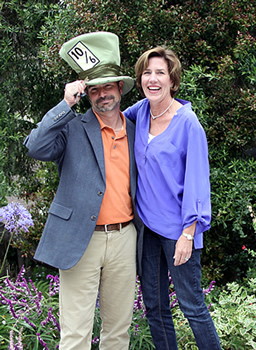 This Craftsman-style home was built in 1911 for Eva & Wilber George, as an escape from the Summer heat of the Salinas Valley. In 1937, having had enough of the sounds and smells of the Cannery Row development, the widow George gave the property to the Victory Mission Sisters who held Catechism classes for the Catholic youngsters in New Monterey.
In 1972 the convent was sold to a private party who then leased it to several different religious groups for use as a popular retreat over the next nine years. In 1981 Barbara and Jim Allen purchased the home and converted it into a bed and breakfast, one of the first on the Monterey Peninsula. Jim Allen, a former captain in the Los Angeles Fire Department and volunteer with the Los Angeles School District, enjoyed the Lewis Carroll poem Jabberwocky and the nonsense it represented. He and Barbara brought the nonsense to life at Jabberwock Inn and "Alice's story" has been intertwined ever since.
The inn changed hands in 1996, when it was purchased by Joan and John Kiliany. They owned and operated the inn until they sold it to John Hickey and Dawn Perez in August 2007. After seven years as Innkeepers at the Jabberwock Inn, Dawn and John sold the inn to Rick and Suzanne Weichert in 2014.
The Jabberwock hospitality tradition lives on as we work constantly to maintain the unique identity of the home while maintaining its nostalgic heritage.
Photo of Rick and Suzanne taking the helm, June 2014.

"Cannery Row in Monterey in California is a poem, a stink, a grating noise, a quality of light, a tone, a habit, a nostalgia, a dream. Cannery Row is the gathered and scattered, tin and iron and rust and splintered wood, chipped pavement and weedy lots and junk heaps, sardine canneries of corrugated iron, honky tonks, restaurants and whore houses, and little crowded groceries, and laboratories and flophouses. Its inhabitant are, as the man once said, "whores, pimps, gambler and sons of bitches," by which he meant Everybody. Had the man looked through another peephole he might have said, "Saints and angels and martyrs and holymen" and he would have meant the same thing."
― John Steinbeck